My Books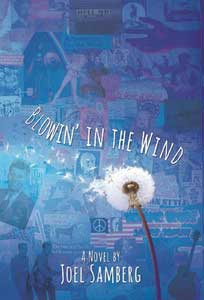 Blowin' in the Wind
Daniel Hillman is a nine-year-old musical prodigy in 1963—although that's not necessarily something that gives him as much pleasure or confidence as he deserves. His emotionally-fragile sister Lori, who narrates, ends up telling a funny and dramatic story of hope and acceptance not just about her brother, but about herself, as well.
Available from Amazon, Barnes & Noble, Target, GoodReads and all other online booksellers.
Visit the Blowin' in the Wind blog for additional information.
Black Rose Writing, 2019, 275 pages
---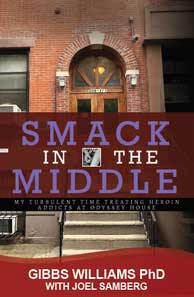 Smack in the Middle: My Turbulent Time Treating Heroin Addicts at Odyssey House
(coauthored with Gibbs Williams, PhD.)
A compelling narrative of Dr. Williams' professional baptism by fire at Odyssey House. The first book to tackle the early history and the social-psychological dynamics of a therapeutic community that was at the leading edge of heroin addiction treatment while at the same time at the verge of mutiny and collapse under the weight of despotic leadership.
Soon to be available on Amazon, Barnes & Noble, and all other online booksellers.
Black Opal/History Publishing, Early 2020, 173 pages.
---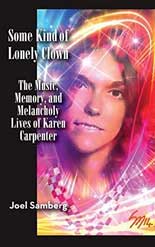 Some Kind of Lonely Clown: The Music, Memory & Melancholy Lives of Karen Carpenter
Karen Carpenter's popularity never really waned. She's almost as popular today as she was during her recording heyday. But not everyone knows that behind the velvety voice was a love-starved romantic, conflicted sister, obedient daughter, unpredictable jester, wannabe mother and emotional wreck. This book is an exploration of Karen's issues, mystique, and timelessness.
Available on Amazon, GoodReads, Barnes & Noble, Walmart and other online booksellers.
BearManor Media, 2015, 150 pages.
---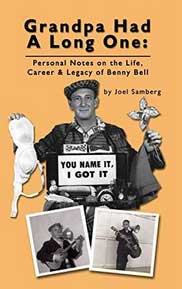 Grandpa Had a Long One: Personal Notes on the Life, Career & Legacy of Benny Bell
Benny Bell - of "Shaving Cream" fame - was one of the funniest, quirkiest and hardest working entertainers ever to come out of the vaudeville and Borscht Belt eras. Although far from a superstar, and never anywhere near rich, Bell is revealed in the book to have had quite a notable career and a life that was immensely rich in humor, drama, music, and unceasing optimism.
Available on Amazon, GoodReads, Barnes & Noble, Walmart and other online booksellers.
BearManor Media, 2009, 238 pages.
---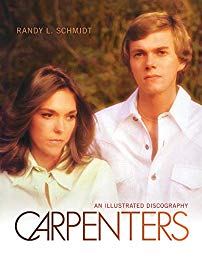 Carpenters: An Illustrated Discography.
I was privileged to be part of a team of journalists, authors, musicians and entertainment figures assembled by Randy Schmidt to provide a series of in-depth, insightful and opinionated conversations on every Carpenters album ever released. Randy's book is beautifully presented with more than 200 images, many of which have never before been seen.
Available on Amazon.
---